News
Welcome to the first issue of CRN NEWS, and thank you for reading. We kick off this first newsletter with a request of our readers to take a survey to help us improve the Canadian Registration Number (CRN Number ) system for industry. If you manufacture pressure-retaining equipment and you have considered entering the Canadian market, or you are already in the Canadian market and have applied for a CRN, this survey is relevant to you. Please take 3 minutes to complete our brief survey: www.surveymonkey.com/r/WFJPLSP
Additional fees may be hitting BPV owners after the feedback period of the Ontario government review of the Boiler and Pressure Vessels regulation. Read for yourself. Get involved.
Ontario O.REG.220 is set to update. Read the the proposed changes. 
Let's face it, most pressure retaining products,
anywhere in the world are designed from materials
derived from the same planet earth, and designed &
manufactured using the same basic engineering
processes. However, each country has its own
standards, and global manufacturers do their best to
respect the current diversity of international standards
in this age of globalization. It can seem daunting to
enter some markets, and Canada doesn't make it easy
for manufacturers of pressure retaining equipment to
enter its markets..
Because Canada regulates almost exclusively ASME
code, and each province & territory have their own
regulations, the Canadian Registration Number (CRN Number)
system acts as a kind of non-tariff trade barrier to
suppliers of pressure equipment who are not familiar
with ASME code, or the CRN system.
A common misunderstanding is compliance to
ASME requires re-design of pressure equipment.
However, in most international code can be
correlated to ASME without re-design. For over a
decade TRG has helped global manufacturers of
pressure equipment originally built to standards &
codes other than ASME successfully obtain CRNs.
There is allot of information about CRN on the
Internet. The fact is that CRN regulators have broad
discretionary authority and individually interpret
regulations, Codes & standards. Trying to
document all interpretations on a webpage is a
fool's errand.
That is why TRG provides tailored advice that
hones in on the best solution to reduce the risk to
entering, or remaining in the Canadian market!
TRG Newsletters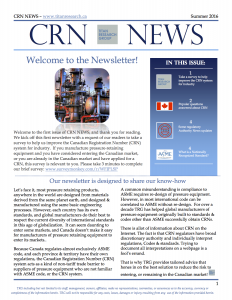 CRN NEWS – Summer 2016 issue pdf 
CRN NEWS – Summer 2016 web version