CRN Number Registration
CRN for Pressure Equipments
Canadian regulations require a valid Canadian Registration Number (CRN number) for most pressure equipment, pressure fittings, pressure piping systems, pressure vessels & boilers operating over 15 psi (1 bar). Unless an exemption or variation applies, the scope of CRN registration submission documentation required is inclusive (additional documents may be required) of relevant documents such as technical drawings,  code calculations for manufactured pressure equipment, application forms, test results, finite element analysis, and a list of products intended for registration in the respective Canadian jurisdictions. The application process differs from province to province and is non-trivial due to the difference in relevant documents between provinces.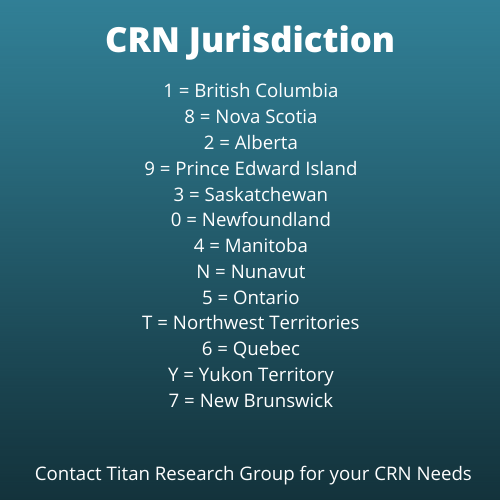 Helpful Guides for CRN Registration
Who makes pressure equipment legal?
CRNs are issued exclusively by an authorized safety authority (regulators) or their designates and specific to a province & territory. A Canadian Registration Number consists of an alpha-numeric string that is specific to whether the CRN number is for a pressure vessel, boiler, piping system, or fitting, and that normally designates the province or territory of approval. Consult a professional for the interpretation of numbering.  Before constructing any piping system design, all fittings relevant to the regulated pressure boundary that is intended for use in the design must also have a CRN issued to the original equipment manufacturer (OEM).
In Canada, a fitting is defined as a wide array of pressure appurtenances from elbows and tees, to the sight glass, level, and pressure measurement devices, strainers, small vessels, and the like.
Can anybody obtain a CRN?
Obtaining a CRN is not necessarily trivial or inclusive. The manufacturer requires, at minimum, a valid QA system that has been audited by a 3rd party acceptable to the safety authority in the province of application. Not all safety authorities accept all QA systems. ASME & ISO 9001 is the most widely accepted QA system, however, the QA system also must be audited by an acceptable auditor.
In addition, depending upon the code or standard to which a design is made, the application process can involve extensive destructive burst testing, finite element analysis, and/or code calculations to establish pressure design safety, the scope of registration, a design application form indicating design application, to name a few. The application forms differ whether it is a fitting design, vessel design, pipe fittings, boiler, or pressure vessels. Furthermore, the Canadian pressure laws and the Canadian pressure regulation differ between provinces and territories. Responsibility for establishing pressure design safety rests with the applicant and regulators do not (and should not) conduct testing or calculation work.  Before commencing with any testing or calculations, it is highly recommended to consult a professional. If you are doing this yourself, please be sure to consult regulatory specific guidelines, newsletters, director's orders, minister's orders, technical bulletins, website notices, the Technical Standards, and Safety Act 2000, province and territory-specific Acts and regulations, and the CSA B51 Boiler, ASME and CSA Pressure Vessel, and Pressure Piping Code outlining numerous details and exemptions from registration, processes, and procedures for applying and presenting the application data.
CRN Reconciliation
A newer development is the Reconciliation Agreement (https://www.hrai.ca/uploads/userfiles/files/SSEB_PRE_CRN-webinar_FINAL.pdf) which for Canadian Registration Numbers (CRN) which makes it easier to obtain a CRN without technical review once approved in one of the participating provinces (note Alberta and ACI Central are not currently participating).
Electronic submission of CRN applications
Since the global outbreak of SARS-CoV-2 Canadian Jurisdictions and in particular engineering authorities such as the safety authority registrars have
CRN Harmonization
The aforementioned reconciliation agreement has made it easier to obtain a CRN across at least 5 provincial boundaries: Technical Safety BC (British Columbia), Technical Safety Saskatchewan (Saskatchewan), Technical Standards and Safety Authority (Ontario), Manitoba Office of the Fire Commission (Manitoba), & the Régie du bâtiment (Québec).However, note that each regulatory authority still requires that an applicant for CRN acquire a registration acknowledgment from their jurisdiction and pay a fee. You can verify the Canadian Province by the digit after the decimal number in the CRN number. For eg: 0F3650.9C shows that the design was first registered in Prince Edward Island (e.g. 9), and then all across Canada (e.g. C)ACI Central is the designated regulatory authority for seven provinces and territories that include: Newfoundland, Nunavut, Prince Edward Island, New Brunswick, Nova Scotia, Northwest Territories, Yukon. The jurisdiction of ACI vastly simplifies the process of registration for these 7 provinces and territories.  However, the backlog can be an issue, and scaling to a larger demand due to electronic submissions has been challenging to most safety authorities.The process of obtaining a CRN still requires a significant amount of time and costs and without proper knowledge of registration processes, successful registration is close to impossible., which is where we come in, Titan Research Group helps you minimize your registration costs.Other services we offer are Pressure Vessel Engineering, manufacturing of pressure vessels and manufacturing of pressure equipment, training (see unifiedinspection.com), quality control program set up, and quality control program set up guidance.For more information on CRNs visit our website: titanresearch.ca/crn-info, or check out the newly minted Wikipedia page at https://en.wikipedia.org/wiki/Canadian_Registration_Number.  A simplified version of the above is translated to Mandarin text in the following brochure: