News items
Training
Regulatory and Code news:
Titan Research Group news (updated July 2019)
Titan Research Group proudly announces its new inspection branch.  Some of the licenses held by TRG inspector associates are as follows:

American Welding Society Certified Welding Inspector (CWI)

CSA W178.2 Level 2-CWB Certified Welding Inspector

American Petroleum Institute 510 (API 510) Certified Pressure Vessel Inspector

American Petroleum Institute 570 (API 570) Certified Piping Inspector

American Petroleum Institute 580 (API 580) Risk Based Inspection Certification

National Board Pressure Equipment Inspector-In Service/Repair

ABSA In-Service Boiler & Pressure Vessel Inspector (IBPV)

NACE Coating Inspector Level 1 

Titan Research Group is now providing the following QMS services:

Quality Management Systems (QMS) define the interaction of contractors and owners in the build or expansion of any building or pressure equipment. TRG can ensure that your QMS follows local regulatory and code requirements, defines the inspection process in the Inspection and Testing Plan (ITP), and that all inspectors and trades have the appropriate licenses, Canadian Welding Board approved welders, Weld Performance Qualifications (WPS) and Performance Qualification Records (PQRs) that are approved by the jurisdictional authority.   Furthermore, TRG will ensure that additional provincial requirements relating to certificates of authorization and quality system licenses and authorizations are in place prior to construction.
CSA B51 Annex F Quality System set up is required for those manufacturers of fittings that do not have a valid ISO QA system or ASME QA system (for example).  TRG has assisted numerous companies across the USA to set up their CSA Annex F QA system and to be issued valid QA certificates acceptable across Canada by the Canadian safety authorities towards registration of fittings.
ASME Bioprocessing Equipment Standard 2019 is released. ASME-BPE-2019

Titan Research Group is a proud contributor to the development of the latest ASME BPE 2019 release.
Rob McGregor, P.Eng continues in the role of Canadian Delegate as contributing member of ASME BPE.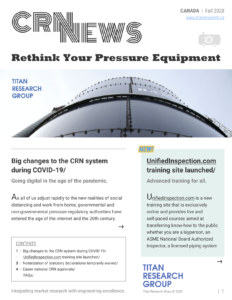 CRN Newsletter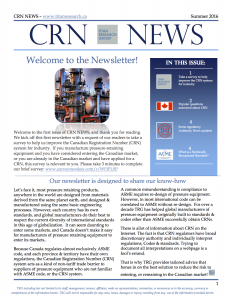 CRN NEWS – Summer 2016 issue pdf